Following his on-air radio debut at age 14 and his audition broadcasts at age 15, Trent Ling was hired at age 16 as a full-time football and basketball play-by-play announcer at local news and sports juggernaut, KONA radio, in Tri-Cities, Washington.  Taking the gig and the assignments in stride with seriousness and enthusiasm, Trent spent his Junior and Senior years of high school traversing the State of Washington, calling games and fulfilling a dream.
"I guess I've never had a real job because this was how the beginning unfolded," Trent reminisces. "Surely I had no resume or qualifications for the gig, but I was determined to make the most of it in gratitude and in line with rather strict personal standards, even at that age.  Let's see, my mom, Dennis, Frank, and Dean represented the corporate ladder here.  My mom told Dennis (who worked at KONA) that I needed an interview; Dennis told Frank (who interviewed me rather casually at first); then Dean (who owned the station) went on a limb, hired me, and put me on the air upon Frank's risky recommendation.  I still cannot believe that all of that came together like that.  How great and wonderful are those four? Exactly!"
Below, this artifact photograph of 16-year-old Trent shows him hard at work in the KONA studios gathering information for his next broadcast.  Of course, for most people, this picture will only prompt questions.  What's up with the hair?  Is that a manual typewriter on the desk?  Seriously, reel-to-reel tapes?  What kind of phone is that, some type of intercom?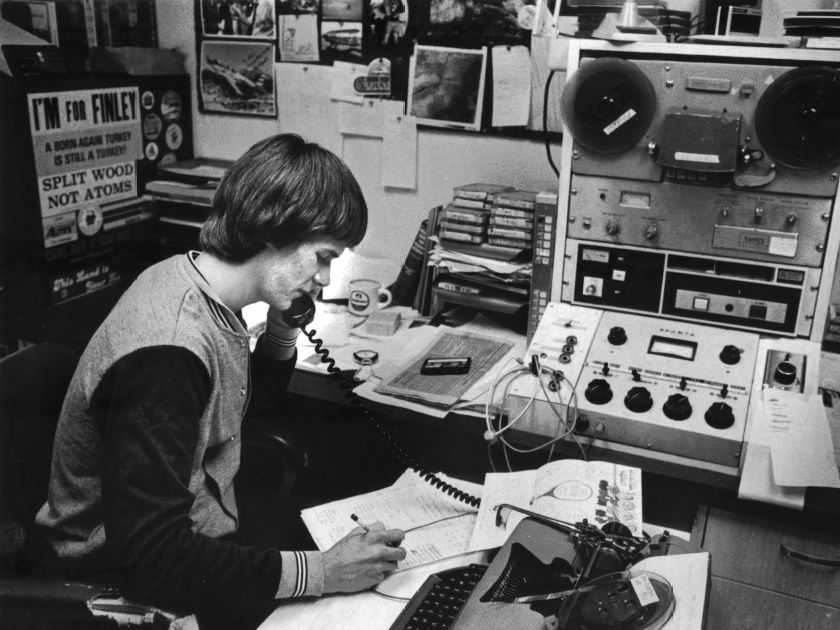 Please feel free to join and further the discussion via the options below. No email or website information is required to post comments (unless you seek the notifications offered).