Trent Ling's retrospective story of his famous goldfish, Spotty, comes to the website today.  Penciled upon an index card, Trent's account of Spotty's inauspicious arrival and ultimate advancement reveals some flavor and perspective from Trent's childhood.
"I loved that fish," Trent reminisces 42 years after procuring the golden wonder. "He was the perfect pet for a five-year-old: healthy, hungry, colorful, and fully viewable. After a couple of years, I was so heartbroken when he got sick and did not look like he would pull through. After dreaming that he had recovered, I awoke hopeful.  But, he did not make it.  With today's technologies, we probably could have rescued him.  My son's remarkable 11-year-old goldfish (featured on the feed picture for this website post) always reminds me of good old Spotty."
After getting Spotty at age five (in the Summer of 1970), scoring upgraded aquarium supplies for his sixth birthday, and enjoying Spotty's legendary two-and-a-half-year run, Trent eulogized his beloved fish during Christmas break of Second Grade.  Beyond the ironic misspelling of "Spotty" himself, Trent's efforts to write "Hawaii" and "decoration" should both amuse and inspire the spelling-challenged.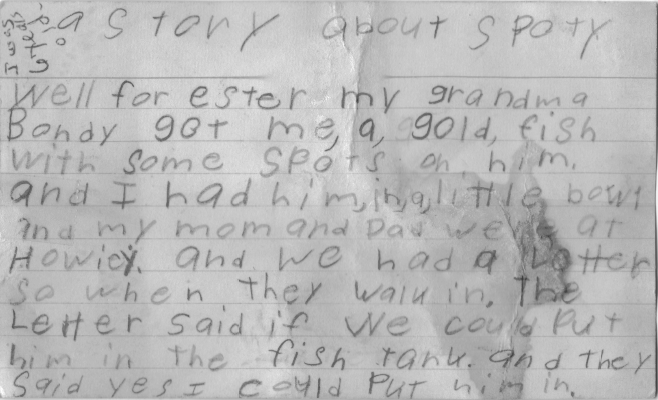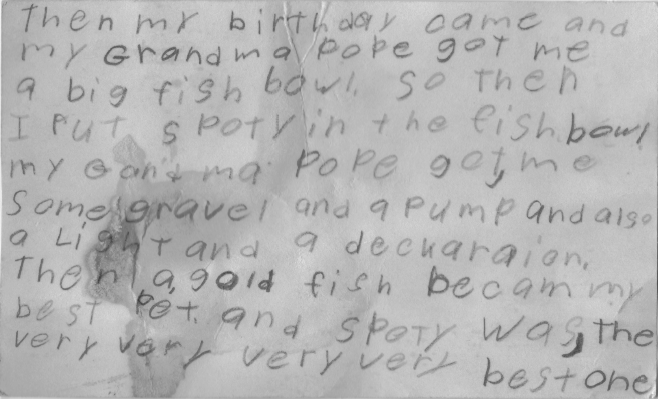 Please feel free to join and further the discussion via the options below. No email or website information is required to post comments (unless you seek the notifications offered).